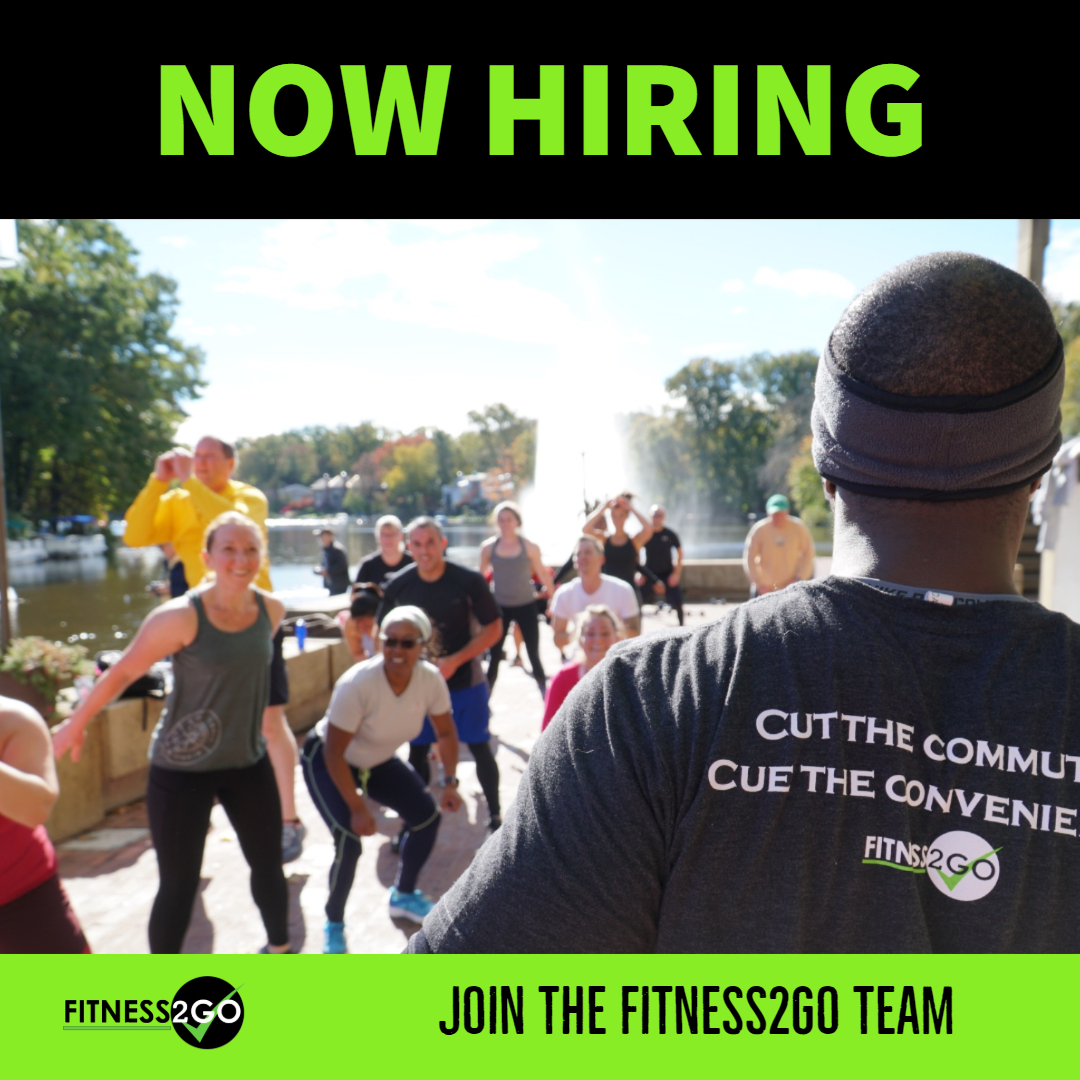 Fitness2Go Group Fitness Instructor & Brand Representative
FITNESS2GO is a health and wellness company that brings you the best in custom crafted, mobile fitness. We offer personal training, corporate wellness programs, youth instruction, group fitness classes, and so much more – and we offer it at whatever location is convenient for you!
At home, at your workplace, or even at the park, we bring the gym wherever you are. If you're looking to workout at a private gym, we offer that as well.
We're looking to expand our team and add a fun, fitness loving and passionate professional to help teach our group fitness classes and run Fitness2Go events across the DMV area. If this sounds like something for you, see details below.
 Job summary
A Fitness2Go Group Fitness Instructor is responsible for providing cutting-edge group fitness instruction through a variety of entertaining, educational, and fun classes promoting fitness and positive self-esteem in a safe environment.
We host fitness events all across the DMV area, but we'll only be sending you to run events in your neighborhood and represent the brand in your community. You'll be responsible for setting up classes, strategically placing Fitness2Go marketing materials at your events, and teaching group fitness classes in a way that best embodies the mission of this company.
Maintain positive relationships with clients and participants to encourage continued class attendance and even expand their involvement with our events.
The position entails the following responsibilities. This is not a complete description, and certain responsibilities may additionally be presented along the course of employment:
Deliver an all-star Fitness2Go experience to our members in each class

Set up marketing materials and prepare the space prior to class
Greet and welcome participants, prepare attendees for any upcoming exercises
Develop positive relationships with class participants by teaching a variety of challenging and entertaining exercises that keep clients engaged and active
Educates participants on correct form and alternative moves during the workout
Attentively listen to members, answer questions, and engage in conversation before and after classes
Continuously monitor the exercise intensity throughout the duration of the class
Ensure class begins and ends on time
Socialize with participants after class to encourage engagement with the brand
You'll also have to appropriately engage with other organizations involved in collaborative events in a professional manner.
Position Requirements
High School Diploma or GED

3 or more years of fitness instructor work experience
CPR/AED Certification
Minimum of one of the following Group Exercise Certifications: National Association of Sports Medicine (NASM), American Council of Exercise (ACE), American Fitness Aerobic Association (AFAA), Aquatic Exercise Association (AEA)
Ability to perform an aerobic activity for duration of a class, which may include, but not limited to, standing, walking, climbing, balancing, running, crawling, and kneeling
Ability to routinely lift 50 pounds and occasionally 100 pounds
Ability to perform exercises specific to the assigned class format
Must be well-versed in basic anatomy, kinesiology, contraindicated exercises, exercise modifications for all populations and ACSM Guidelines for frequency, intensity, duration, and mode
Must be eager to learn and continue professional development and education
Must be friendly, vibrant, and outgoing
Must have access to regular email and phone communication
Must have consistent access to a vehicle to get to Fitness2Go events. Gas will be reimbursed depending on distance to said commitments.
Most important: you must be FUN! And excited about joining our team and spreading the FITNESS2GO message.